"I try to leave out the parts that people skip."
-Elmore Leonard
A lot of writing time has been sucked up this month. (Bah! Humbug.) Writing the Christmas letter and editing all my home videos to give as gifts to the grandparents, (the only thing I can possibly give them that they cannot give themselves,) takes an insane amount of time!
However I have looked at all this as a worthwhile thing, not only because it will make wildly popular gifts for loved ones and a family treasure for years to come, but it has also been a good exercise in editing; cutting the excess, getting rid of all that boring stuff no one else cares about.
And there was plenty of excess to cut! I've succeeded in getting a year's worth of videos to less than 40 minutes. The Christmas letter, which gave a creative look at our current state of living and every individuals accomplishments, complete with a cheery Christmas message, was boiled down to less than 360 words, both exciting and depressing. The only worthwhile parts of my year boil down to 40 minutes and 360 words.
Not true to me, just to everyone else. There are lots of moments of this year that I just loved and could write pages about, (and did in my private journal,) but chose not to torture everyone else by sharing.
Less is more.
I've learned that it's not just about the parts I think are worthwhile. As the creator and owner of all my doings I will always have a special place in my heart for many things that no one else will ever care about. What may be cute, funny, or sentimental to me might just be a lot of "yada, yada, yada," to someone else.
In other words…
It's time to murder your darlings!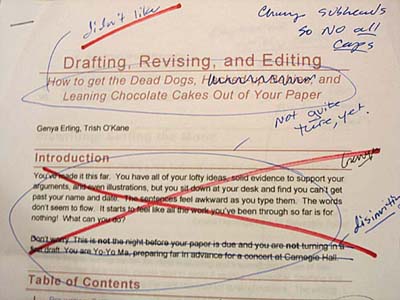 ---