Knopf Giveaway Day 3: "The Emerald Atlas" by John Stevens
Today I bring you a wonderful middle-grade adventure, THE EMERALD ATLAS, which is Book one in the BOOKS OF BEGINNING trilogy by John Stevens.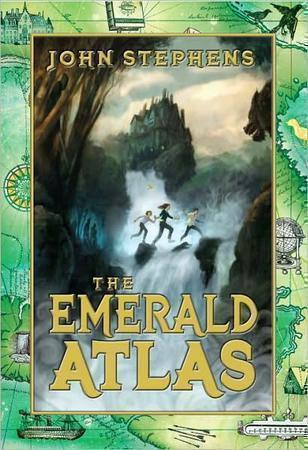 A snowy winter's night. Three small children are chased from their home by the forces of a merciless darkness. Ten years later, Kate, Michael, and Emma are no closer to the truth about what separated their family.
The answer lies with an enchanted atlas.
The power of the atlas unleashed, the children are transported to a land ruled by a golden-haired Countess and her army of soulless Screechers. Kate and her siblings soon find themselves on an incredible adventure- one that involves captive children, unexpected allies, bloodthirsty wolves, underground battles, a glittering, ghostly ball, sword-wielding giants, and a quest for three books of unspeakable power.
This books was such a delightful and adventurous read that I thrust it at the first middle-grader I came across…and he loved it so much he couldn't wait to tell all his cousins and friends about it. So if you know a middle-grader who's looking for more adventures like Harry Potter and Fablehaven, THE EMERALD ATLAS is a good place to find them.
Tell me in the comments if you would like a chance to win this wonderful book!
And by the way, in case you were confused, I'll announce the winners of all the books at the same time next week.


---